Current Mood:

happy

Current Music:

The Puppini Sisters - Good morning
The damn Frenchmen happend to be handsome - all of them. Kiss, kiss - Marcel, kiss, kiss - Christian , kiss, kiss - Didier. No kisses on the lips, no kisses on the ears.
Nice project meeting - one of them had a heavy accent, but I understood everything. And they understood me. Everyone was happy, everything was fine, we are on the schedule - I'm so happy.
I have not worked with clients lately - I got tired of it, but today I thought that it would be nice for a change. But I hate all that travelling.
And here is Sulo, 1 year (time flies).
Today I had a meeting with three (handsome!) Frenchmen at our office in Helsinki. I had not met them earlier, but I had heard that all of them liked to do "the French style kissing on the cheeks thing". Okay - to me it means six possibilities to end up kissing someone on the lips. I always get confused and don't know which side is first. I was worried about locking lips and then a friend reminded me that I could also end up kissing them on the ear - not much better.
Current Mood:

happy
Current Mood:

happy


Yesterday I found out that a woman I know had been attacked on our street one morning last week at 5.30 am while she was walking her dog. A tall fiftysomething man had put his hand on her hips and had tried to push her on the ground. Luckily her fox terrier has is not the nicest dog on the planet. He had bitten the man and he had run away. Hopefully the dog bit him badly. Probably the stupid man thought that the dog was too small to hurt him, but terriers are pretty good biters. So now I'm afraid to go out alone - me - I have never been afraid to go to anywhere alone. I used to go to the woods in the middle of the night. I won't do that any time soon.

Later J had a phone call. An 8-year old boy had run away from home and they needed volunteers to search him. Once a volunteer, always a volunteer. He spent the whole night outside with other volunteers, soldiers and policemen trying to find that boy. I woke up a couple of times because two helicopters made a terrible noise as they flew over the forest area searching the boy as well.

In the early morning J came home and went to sleep and I opened my laptop. Just to fond out that my coworker was on sick leave. I also found out that he had told everyone else that he will be on sick leave on thursday and on friday. I was the only one who did not know that and I was supposed to do his work. I was pissed off already at 8 am. Apparently my "lovely" coworker had promised to do quite a lot on Friday, so I'm still working at 8.15 pm. J woke up after have slept only four hours. He left at noon and is still outside as they try to find the kid. I hope they will find him soon, it is cold outside.

My "sick" coworker was not too sick to send emails. I saw about ten emails starting with: I'm on the sick leave, but...

So the party was cancelled. I don't really mind, I just wish that I could stop working right now.
We were supposed to have the christmas party a week ago. The guys wanted to have a medieval christmas party, so we needed more time and we were supposed to have that party today. On wednesday morning we went christmas shopping with J. Nice morning, happy morning - we have never done christmas shopping together before this. Nice weather, not too cold, small snowflakes slowly falling from the sky. We only visited small shops and tried to buy ecological and organic stuff from young designers. We were relaxed and happy, but that was about to change. The same moment I stepped out of the car my phone rang. My closest coworker who happens to be a really annoying young man and a small person phoned and said to me that he was about to leave to see a doctor because he was sick (he has been sick once a month since they had a baby in July) and he needed to have some medication, but there was no need for sick leave. In the evening he sent me a text message saying that he will stay at home on Thursday. I had to do his work. Nice. So I had to work like crazy yesterday.
Current Mood:

tired
As I was listening and downloading those songs today and I could not help thinking about a certain navy suit when I listened a song called "The suit of a lonely man". Okay he is not divorced, probably not lonely and the suit does not fit like a glove, but still....
(
The navy suit, lyrics and the song HERE
Collapse
)
We are having a small christmas party soon and I was thinking about a theme. Right now I'm in love with the songs and lyrics by Tuure Kilpeläinen, so it is obvious that we will listen to his old fashioned, yet contemporary songs with poetic (and kind of weird) lyrics.
Current Music:

Tuure Kilpeläinen ja kaihon karavaani - Yksinäisen miehen puku
Current Location:

at home

Current Mood:

satisfied

Current Music:

Tuure Kilpeläinen - Ystävänpäivä
Current Location:

at home

Current Mood:

blah
And one of his movies - Hemingway and Gellhorn will be on tv tonight. I bet I hate that too, bacause I have hated all his movies. I will watch it because I don't have anything better to do around midnight, I can sleep at work, tomorrow won't be a busy day - starting a new job, but who cares. It will be a dull job anyways.
I HUGELY hated that Bulgari interview. I had to watch it about three times, after that I almost felt sick. I had to take about 100 screen captures and spent some time making gifs just to point out how disgusting that man really is. Masculine charisma - yeah right.
And those who know me know exactly what I mean. And those who don't - take a look at the gifs - he is not hot.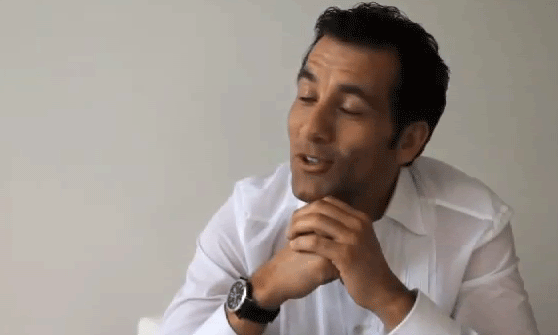 (
MORE UGLY FACES HERE
Collapse
)
You know that British actor... that tall one...emm...Clive something, the one whose worse performance ever was on Closer. I watched his Bulgari interview this morning. The man is fugly. I don't understand why Bulgari chose him. Have you seen that interview? His hair is awful, just awful. That white shirt does not look good on him. It makes him look pale. And he should button that shirt - who wants to see even a hint of that chesthair. It needs to be waxed. Also his squeaky voice is terrible, I'm glad I don't have to listen to that more often. And those eyes - can you even tell what color they are - green, blue, brown - a little bit of everything, I would not want look him the eye - ewww.... Does someone really believe that he is sexy? He is not, NOT AT ALL. Hideous. Totally hideous.
Current Mood:

bitchy